Today I am participating in a fun link up put on by some very stylish blogging mamas.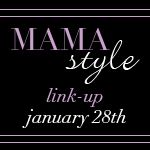 When it comes to getting dressed in the morning, comfort and practicality are key.
With an almost 3 month old, there just isn't the time to fuss over putting together an elaborate outfit. There are new things to consider. Covering the still-not-quite-back-to-normal hips and belly. Making sure I can easily nurse. In all honesty, my style hasn't really changed much since becoming a mama. But my go-to pieces, the items in my closet I keep going back to, have.
Even on the days we don't step foot outside the house, it is still nice to feel somewhat put together. So, I usually throw on a pair of leggings or skinny jeans with boots, a nursing-friendly top, and a scarf. Something about a scarf always makes me feel that much more put together. To top off the look, an equally no-muss, no-fuss hair-do. And some fun bracelets are great for those days where you want to add a little something extra.

If I had to choose, these would be my three mama style must-haves. Throw this on and you will instantly feel like a million bucks. And like you've had a full night's sleep...
Now go pop over to the link up, catch up with these lovely ladies, and share your own mama style!